Why give to Grand Beginnings?
Evidence continues to grow in support of early childhood investment (See the evidence here).
When you donate to Grand Beginnings, your money will go towards 3 important causes:
1. Providing opportunities for parent education and early childhood professional development
2. Assisting families looking for childcare with resource and referral information
3. Providing scholarships to local families struggling to pay for childcare
Supporting Grand County's young children has never been more important.  It is crucial to our friends and neighbors like Nancy, a parent who remarked:
"The scholarship our family received allowed us to keep Sam in preschool three days a week while my husband was out of work.  Keeping our son in preschool has kept him on track to be prepared for kindergarten socially and academically, and [the scholarship] allowed us to utilize available income for household expenses."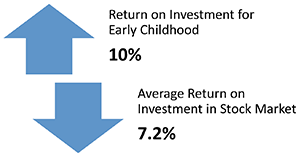 It's up to individuals like you to take action that promotes the success of kids in our community.
There is a 10% return on investment for early childhood. This means that, even with a small donation, you can make a huge impact by supporting early childhood. Give now by clicking on the paypal buttons below. All major credit cards are accepted, and payments are safe and secure through Paypal.
Donate Now
[ezcol_1third]Donate Any Amount:
[/ezcol_1third] [ezcol_1third]Donate $5:
[/ezcol_1third] [ezcol_1third_end]Donate $25:
[/ezcol_1third_end]
Grand Beginnings is a 501(c)(3) non-profit organization under Internal Revenue Service (IRS) code. Contributions to Grand Beginnings are tax deductible.  In addition to this tax deduction, you can claim the Colorado Child Care Contribution Credit, which enables both individuals and businesses to receive a 50% credit on state income tax (more information on growing your gift here).
If you prefer to mail us a check, please make it payable to Grand Beginnings and send it to:
Grand Beginnings
PO Box 95
Hot Sulphur Springs, CO  80451