Early Care and Education Providers
As child care providers you serve a critical role in supporting the growth and development of the children you serve in Grand County. Grand Beginnigs is committed to supporting your work so that you can provide the best care possible.
Early Childhood Colorado
Early Childhood Colorado Office for Professional Development website offers information on credited coursework, online learning and more. You can also sign up for their e-newsletter.
Qualistar Early Learning
Qualistar Early Learning is a statewide non-profit organization working with child care providers, parents and communities to improve the quality of early childhood education in Colorado.  Qualistar provides valuable Childcare Resource and Referral information for professionals and parents.
The Qualistar Rating measures quality in licensed early learning programs, both home and center based that serve children birth to kindergarten. If you'd like to become a Qualistar Rated Center please follow this link www.qualistar.org to learn more.
EC Professionals Tips and Tricks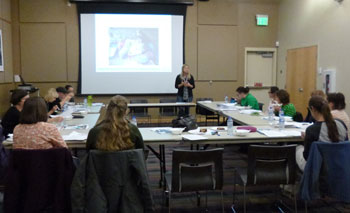 As Early Childhood Professionals we understand that there are challenges that arise from time to time, please see below for some tips, tricks and websites to help make things easier:
• Brain Development: www.zerotothree.org
Zero to Three  has an interactive baby brain map. Depending on the age range, different hotspots on the brain will appear. Click on a hotspot to reveal questions to find out how a baby's brain develops during this period of brain growth. You'll also learn what you can do to enrich a very young child's development.
• Social Emotional Development: csefel.vanderbilt.edu
"Social development is composed of the behaviors, attitudes, and affects integral to children's interactions with adults and peers."  – Wittmer, Doll, and Strain (1996)
• Positive Praise: csefel.vanderbilt.edu
Positive Praise starters for descriptive praise. Verbal praise goes a long way.
• Captain's Hat:
Ever have a child who ALWAYS has to be the boss, or a child who has a hard time asserting themselves? Encourage friendship skills before each free choice or small group time, by offering to pick a name out of a hat to decide which child is the "Captain." That child gets to decide play themes, which game to play or book to read or where kids need to sit. The other kids (and the teacher) should listen to the "Captain." This way the shy child can practice being assertive and the bossy child can practice listening to others.
• Super Friend Award: csefel.vanderbilt.edu
Design a cape, crown or medal to recognize that kid who is being a Super Friend. When you see awesome friendship skills, make a big announcement to the whole class, using descriptive praise, and identify that child with immediate positive feedback, which we all know is most effective.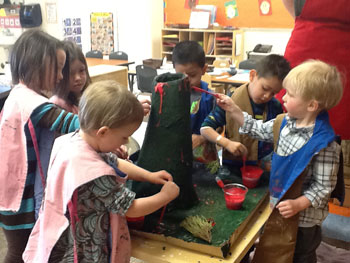 • Buddy System: www.challengingbehavior.org
Pair a strong peer with a child who needs some "coaching" on social/friendship skills. Kids love to imitate each other and learn best from modeling.
• Book Nook: csefel.vanderbilt.edu
These easy-to-use guides were created especially for teachers/caregivers and parents to provide hands-on ways to embed social emotional skill building activities into everyday routines. Each book nook is comprised of ideas and activities designed around popular children's books. Examples of suggested activities include using rhymes to talk about being friends, making emotion masks to help children identify and talk about different feelings, playing games around what to do with hands instead of hitting and fun music and movement activities to express emotions.
• Early Learning Guildelines: earlylearningco.org
The early years of a child's life — from birth to age eight — are critically important for learning and development.The Colorado Early Learning and Development Guidelines provide practical tips and points of reference that anyone can use to help kids grow.Whether we're experts, early childhood teachers, first-time parents, or involved friends and neighbors, we all play a role in giving kids a strong, healthy start.