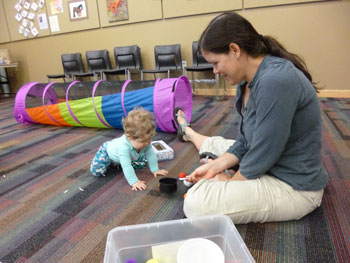 As an early childhood provider, you spend the majority of your day interacting with children, and you are already familiar with many milestones that mark a child's development.  Click here for a quick reference tool on developmental milestones at each age.
All children are unique, but eventually, you will see a child who is not developing as they should.  Being an expert instills you with a significant responsibility to families.  They look to you for information on their child, and they trust you take action when necessary.  For early childhood providers in Grand County, a roadmap exists to help guide you as you take action.  To see Grand County's simplified developmental screening roadmap, click here.
Child Developmental Screenings

A high-quality early learning program will ensure that all children are screened universally at regular intervals.  In Grand County, health and early childhood professionals are working together to make sure every child is screened three times by the age of 3.  For most providers this means administering a developmental screening tool called the Ages and Stages Questionnaire-3 (ASQ-3).
What is it?
The ASQ-3 is parent-completed questionnaires that is proven to reliably identify developmental delays in children aged one month to 5½ years.  It screens children for delays in 5 different developmental areas:  Communication, gross motor, fine motor, problem solving, and personal-social.  Each questionnaire has approximately 30 questions asking about whether or not your child can perform certain skills.  From start to finish, it takes about 10–15 minutes to complete.  Rigorous research shows the ASQ-3 to be one of the most accurate developmental screening tools available.
Why should I screen in my early childhood program?
As an early childhood professional, you have the opportunity to play a crucial role in identifying children with developmental delays at a young age.  It can be hard for you, parents, and pediatricians to know if a child is developing appropriately just by looking at them.  In fact, studies have shown that, while professional judgment is undoubtedly valuable, when used alone, it detects fewer than 30% of children that have developmental disabilities.  Implementing the ASQ-3 provides you with a more objective way to screen for delays.  Research shows that when professionals use a standardized screening tool at periodic intervals, they identify more than 80% of children with developmental disabilities.  In addition, screening results can be a powerful tool to help guide conversations with parents and administer individualized anticipatory guidance for children in your program.
Grand Beginnings is invested in supporting developmental screenings among early childhood professionals in Grand County.  If you are a Grand County early childhood professional and would like more information on ASQ-3 training, implementation assistance, or the developmental screening roadmap, please contact us today.