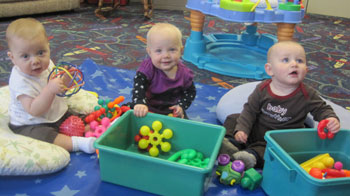 Child care is a major expense for families with young children.  There are child care scholarship opportunities available to Grand County residents to help defray the cost.
Community Tuition Assistance Program
The Community Tuition Assistance Program is a coordinated county-wide tuition assistance program with a common application and eligibility guidelines. Tuition Assistance Funding is allocated to participating early care and education programs based on enrollment and quality rating and those programs distribute funding directly to families. Grand Beginnings leads fundraising efforts and oversees allocations but does not make funding decisions. Families interested in tuition assistance should speak directly the Early Care and Education Program they are enrolled/enrolling with.
Individuals interested in supporting tuition assistance can donate directly to Grand Beginnings and mark the donation "Tuition Assistance."
 Colorado Child Care Assistance Program (CCCAP)
The CCCAP is an income qualifying program that assists working families in paying a portion of their child care costs. To determine eligibility in Grand County click here or contact Taunia Shipman at 970-725-3331.
The Colorado Preschool Program (CPP)
The Colorado Preschool Program is a half day scholarship for children with various risk factors. Contact your local Elementary School, Fraser Elementary 726-8033, Granby Elementary 887-3312, and Kremmling Elementary 724-1000.