Why is school readiness important?
A child's first school experiences can influence the way they relate to themselves and others for the rest of life. That's why it's important to make sure that when your child begins school, they are developmentally ready to learn and participate in classroom activities.  By starting kindergarten with a strong foundation, you set your child up for success for years to come.
How can I tell if my child is ready for kindergarten?
When trying to determine if your child is ready for kindergarten, consider their readiness to learn.  Is your child able to communicate and listen well?  Is your child able to get along well with others?
The figure below represents a list of skills that are helpful for children to have when they enter kindergarten.  Keep in mind that this is the ideal kindergarten skill set, so don't worry if your child has not mastered specific skills.  This is simply a guideline.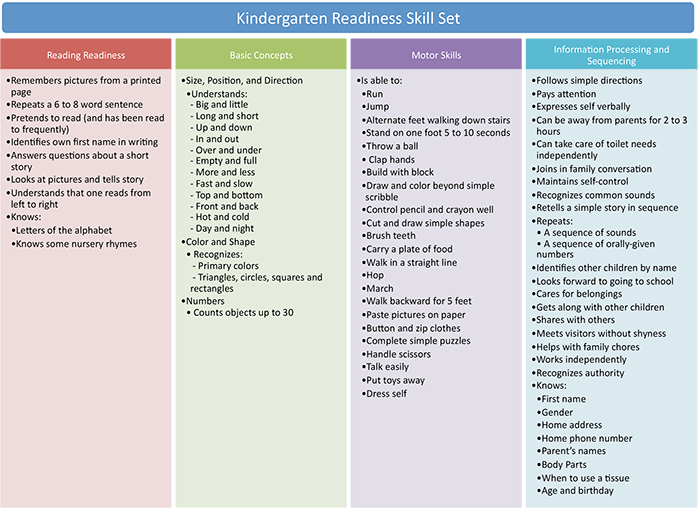 Get a printable version of the Kindergarten Readiness Guide
School Readiness Skills Begin at Home
Children have the best chance of succeeding in school when they have parental support at home.  Work with your child to assess which of the above skills they have mastered and set small goals to build your child's set of skills.  Using small blocks of time, focus on one or two skills at once.  School readiness skills are best taught in small doses, with repetition over months, and without pressuring your child.  Try to help your child develop physical and language skills in the course of regular activities. The more you talk and do with your child, the more easily his or her skills will develop naturally.  So, enjoy your time together with many varied activities, environments, stimulating conversations, and lots of reading and singing!